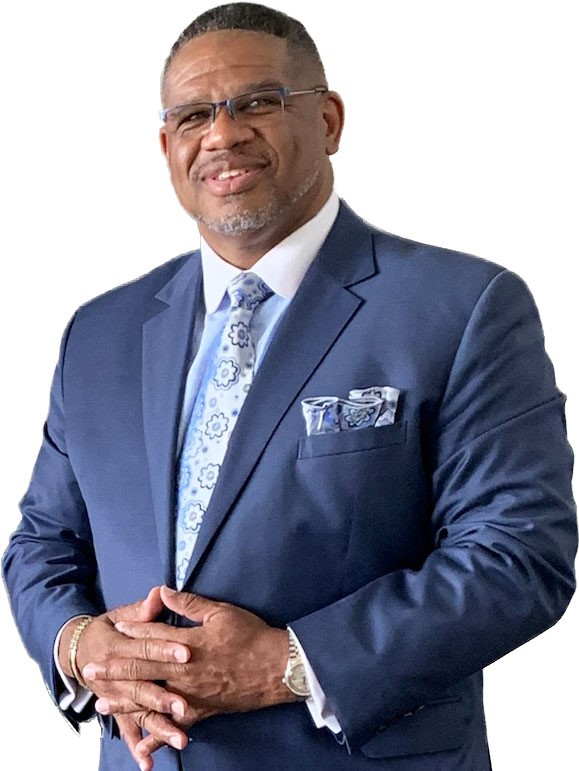 Oscar D. Epps, Sr. is the founding Senior Pastor of the Community Missionary Baptist Church of Desoto, Texas, named and organized on February 14, 1993. He is the youngest and only son of eight children born to the late Oscar W. and Pearl Northcutt Epps. He accepted his call to preach the Gospel of Jesus Christ in November of 1987.
Pastor Epps' educational journey includes a 1985 graduate of Justin F. Kimball High School (Dallas, TX); studentship at Ranger Junior College (Ranger, TX) and Pittsburg State University (Pittsburg, KS); a four-year diploma from Southern Bible Institute in Biblical Studies (Dallas, TX); a Bachelor of Arts in Christian Counseling from The School of Scriptures (Dallas, TX); and a Bachelor of Arts & Sciences Degree with concentration on Christian Ministry from Dallas Baptist University (Dallas, TX). He subsequently received an honorary Doctorate in honor of his service to ministry.
His service includes: President of The BGCT (Baptist General Convention of Texas) African American Fellowship which is comprised of over 800 churches as well as the Moderator of The Dallas Baptist Association inclusive of over 500 churches. He currently serves on the Board of Trustees for Dallas Baptist University and as Chaplain for the Desoto Police Department (Desoto, TX) being the first African American chosen for this position.
Pastor Epps' demonstrates and validates the gift of preaching and ministering in worship and has preached and taught the Word of God throughout the United States. He possesses an infectious personality and demonstrates an unequivocal love for people. Throughout his ministry Pastor Epps has displayed a firm committing to worship, discipleship, fellowship, and stewardship. This high level of commitment and integrity in ministry has resulted in the realization of the vision to start Community Missionary Baptist Church Cedar Hill location on June 3, 2017. He has also been instrumental in the planting of five churches throughout the DFW metroplex.
Under his visionary leadership CMBC continues to see membership increase that now spans many states in North America, India, the Caribbean, South America, and several countries on the African Continent. In keeping with his outlook on excellence empowerment of His congregation and CMBC constituents, in March of 2021 Pastor Epps birthed the Extraordinary People Providing Services School of Ministry (EPPS SOM) where he serves as president.
Pastor Epps is the husband of his lovely sweetheart, Belenthia whom he took to be his bride on February 14, 1988. They are the very proud parents of three children: Destany, Oscar II and Aderius; and blissful grandparents to Desman, Aerington, Aderius, II and Aeron.