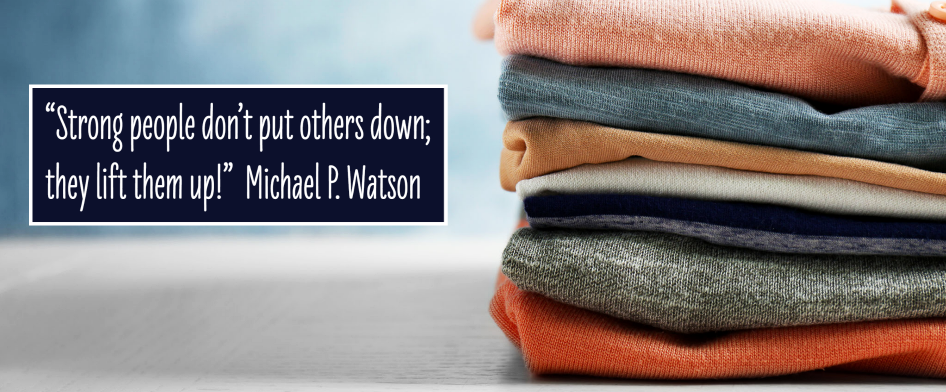 MISSION
We exist to offer gently used clothing for the whole family; we connect the things we no longer need with the people who can use them. We provide clothing and encouragement at no cost to all in need, and to whosoever will come and receive, regardless of Race, Creed, Color or National Origin, based upon James 2:15-16.
BIBLICAL MISSION
James 2:15-16: "Suppose a brother or a sister is without clothes and daily food. If one of you says to them, 'Go in peace; keep warm and well fed,' but does nothing about their physical needs, what good is it?"
CORE VALUES
Unless all community members have equal opportunities and an equal playing field, none in our community will prosper or grow.
By re-wearing, reusing, and recycling clothing, we save precious natural resources, reduce pollution, and keep waste out of landfills.
We maintain that everyone shares equal value and should be afforded equal treatment.
To care for others in a non-judgmental environment by providing clean, gently used clothing with an open heart so that others may see Christ through us.
Our Vision is to empower people with clothes to promote self-esteem and self-identity in our community.
THE PROCESS
CEDAR HILL CAMPUS – EVERY 3rd SATURDAY AND 4th WEDNESDAY!
Location: Community Missionary Baptist Church -- 820 E. Wintergreen Rd., Cedar Hill, TX 75104
Times:
9:00 am to 12:00 pm --

Every 3rd Saturday of the month

9:00 am to 11:00 am

-- Every 4th Wednesday of the month along with our Food Distribution
Items: Clothing only for the entire family